Match Report: CHI 0-0 DC
---
Thoughts
Where do I begin? This was one of the worst matches I've seen for a long time. Both sides not playing well at all, and neither lacking any conviction. From a DCU perspective, going forward we couldn't hit the target, the only attempt being on target was a Rooney FK, so nothing from open play. The lack of goals on the road is really showing us up right now, only 12 from 12 games, and not scoring in 6 of those. And at the back, Pines had an off game, his tackling was on point, but with the ball at his feet, he gave the ball away on so many occasions I lost count. Whether it was gifting it straight to them or putting it out of play. We were kamikaze at times, whether it was just hacking the ball away or giving the ball to Chicago right at the back.
It seems that Ben can't get the best lineup out right now, always some issue happening, with Mora having visa issues which relegated him to the bench (not sure why, may as well start him and bring him off later on), and we began with 3 at the back. Rodriguez starting as a LWB which has never worked well for us, so not sure why that happened either. It was all a bit questionable last night. Rooney returned to the lineup alongside Acosta for the 1st time in a while, and Pines made yet another start.
The 1st half offered very little in the way of chances, Fire having the best of it with a Gaitan FK coming in and a melee of players in the box trying to get the ball in, cleared away by Brillant. He also made a goal saving tackle in the 1st half and was they key player for DC. The 2nd half opened up a bit more, and Acosta found more room for dribbling and had a couple of attempts on goal, one being incredibly close, just on the wrong side of the post. Rodriguez, making more impact in the game too, and his recent form showing why he should be made a permanent signing, dribbled from the back, found his way through 2-3 players and won a FK, Rooney steps to take and is well saved by the Fire keeper, who parried it away. That being the only attempt on target. Fire having the best chance in the whole game when Dax McCarty having an attempt deflect off Birnbaum from the edge of the 6yd box. Ben Olsen not making a tactical sub until the 87th Minute, this has irked a lot of fans as this really leaves no time for any impact to change the game. He was forced into a substitution when Canouse had to go off with a rib injury.
Key Points
Wayne Rooney returned to the starting XI after missing the match against Atlanta United on July 21.
Chris Durkin came on as a 65th-minute substitute; his first MLS appearance since the 1-1 draw against Toronto on June 29.
Bill Hamid recorded his ninth shutout of 2019; his first since the 1-0 win against Orlando on June 26.
United have a 23-20-18 record against the Chicago Fire all-time
The Black-and-Red are 7-11-12 on the road against Chicago.
United are 4-4-4 on the road in 2019.
The Black-and-Red recorded their first shutout on the road since the 0-0 draw against Toronto on May 15.
Man of the Match
Not sure anyone really deserves this, but, Brillant did have a decent game, making a couple of goal saving tackles and blocks. Well done Fred!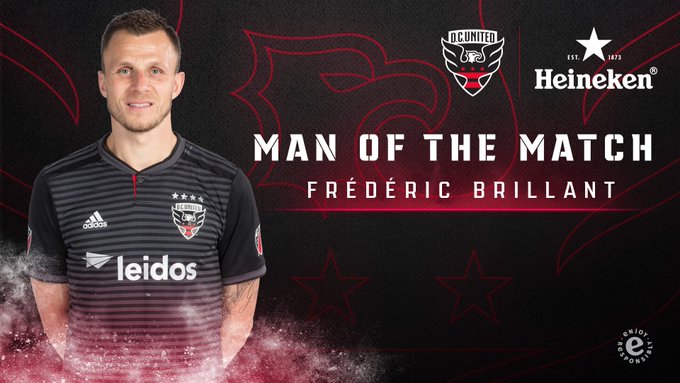 Up next
Our next match is against Philadelphia Union at Audi Field. KO is 12:30AM BST August 5th.