Match Report: ATL 2-0 DC
---
Thoughts
After the midweek win against Cincy, a lot of fans came into this one thinking we might be able to get a result here. 4 goals from open play, bit of swagger in the 2nd half and all was looking good. The big test was against the reigning MLS Cup champions. It wasn't to be however, and it all started when news came out that Rooney hadn't travelled with the team. Rumours were flying around but it turned out that he had picked up a few knocks in the previous game and needed the rest. This was only the 2nd time he missed a match since joining the Black & Red, the previous occasion was through suspension against Montreal Impact, the game I was in attendance for.
We set up with the same formation as the previous game, something I was surprised with, but happy. Acosta replaced Rooney as the lone forward, but as a false nine, so we didn't play with any recognised striker, that I was not happy with, but Hamid came back to take his place in the sticks after being out for the Cincy game. And it all looked good in the 1st half, yes they had 70% possession, but we had a great counter attack, and we almost made them pay on a few occasions. Arriola with a couple of efforts and an almost assist for Rodriguez, but it was hit too far for him. The DC defence kept Josef Martinez at bay, only allowing half chances, and Bill Hamid was equal to every single one.
The 2nd half was a bit different, we didn't look like we wanted to counter, and we were playing for the draw. Something no-one likes to see. Pines was doing his best covering the ground and getting some good tackles in, but it was just wave after wave of ATL attacks. Eventually they got themselves a penalty, after J Martinez went down in the box, replays showed very minimal contact, if there was any, and again for the 2nd game in a row, the penalty wasn't double checked, why this isn't the case with every single penalty I don't know, but that is the state of play right now. And then, Josef Martinez became Josef Chokinez after he spooned his attempt over the bar, looking like a fool with his hop-skip-jump routine. Looks good when it goes in and fools the keeper, looks horrible when you miss like he did. Afterwards though, the other Martinez came on, Pity, and in the 89th minute, a cross comes in from the right, Pity strolling into the box unmarked, and heads it in. Where our defenders were, our defensive midfielders, I just don't know. We had coped for that long and lost it there. We did go all out for the equalizer, however that was our undoing as J Martinez was fed through, was 1on1 with Hamid and he chipped it over him. Nothing Bill could do about that.
That's how it ended. Mixed emotions with this game, gutted that we didn't hold out, gutted we couldn't take the chances in the 1st half, and annoyed that we seemingly played for a point in the 2nd half which left us with a defeat.
Key Points
Bill Hamid has faced three penalties in 2019; none of which have been converted. 
Luciano Acosta returned to the starting lineup after serving a two-game suspension for a red card against FC Dallas on July 4.
Bill Hamid returned to the starting lineup; he recorded four saves.
Donovan Pines started his second consecutive game for the Black-and-Red; he has made eight appearances in his rookie season.
United have a 5-3-0 record against Atlanta United all-time
The Black-and-Red are 1-3-0 on the road against Atlanta.
United are 4-4-3 on the road in 2019
Man of the Match
Difficult to come out with a best player for DC. But really one man did stand out from the rest, and that's not because of his physique, but his overall play and the way he gets himself around the pitch. The rookie, Donovan Pines!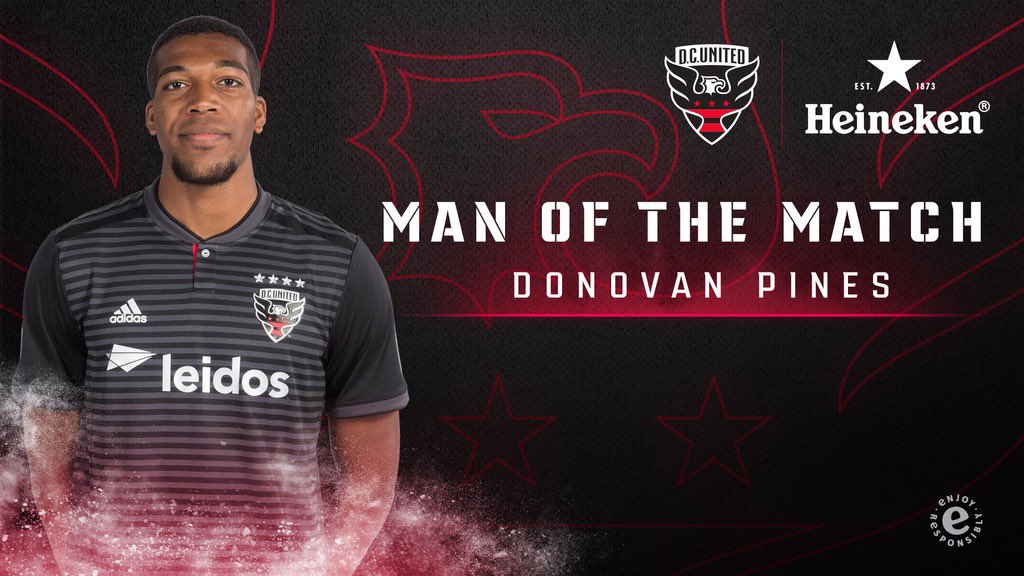 Our next match is against Chicago Fire on Saturday July 27th EST, or July 28th BST. Kicking off at 1am(ish) here in the UK.