Match Report: MTL 0-3 DC
---
Thoughts
This match was certainly a curveball in more ways than one. From the announcement of the lineup, and the introduction of Canouse as a right back, Rooney out through suspension, and a woeful run of form. The only pleasing performance had to be the game against LA Galaxy, a game in which they showed heart and passion. All the talk from the camp was how there was a team meeting and how that involved clearing the air. And, that worked brilliantly.
One thing that had been an issue was the way DC played in the opening 10-15 minutes of the game. From the get-go, DC played in a high press fashion, challenging for the ball in the final 3rd, forcing them into mistakes. But what really shone for me in the 1st half was, was the way we took our chances. Kamara opening the scoring on 20 minutes, Rodriguez winning a free kick, Moreno firing it in, managing to break through the wall and falling to Kamara to score a proper poacher's goal. And it didn't stop there, Arriola scoring a perfect route one goal, Hamid pumping the ball through from a goal kick, challenge from Kamara on Piette who nodded it through to Arriola who stroked it passed Ed Busch in goal. DC weren't done with the scoring, Kamara getting his 2nd of the game when a corner from Felipe, is nodded back across by Brillant and diverted in from Kamara. A great well worked goal, and DC showing what they can do. Montreal ended the 1st strongly with a number of efforts and crosses but couldn't get beyond the defence.
2nd half kicked off, Montreal starting the half like they ended the 1st. All the possession was with the home side and DC having to defend with drive and determination. It seemed like this was the plan as the likes of Kamara and Arriola dropped deeper. That doesn't mean to say there weren't chances, of course there was but they were fewer. Montreal had a shout for a handball and penalty, but it was waved away after the ref had decided that the hand was in front of the body and therefore not making himself bigger. Urruti was booked for simulation, something I'm happy to have seen as it's just horrendous to see that. Bojan got angry and was firing efforts with pace but not enough direction. And then Kamara spurned a glorious chance to get his hattrick, running to the left but off balance with his shot meant despite it being on target, it had no pace. DC's subs were brought on late in the game, and provided the fresh legs required for those final moments, and it finished with a 3-0 road victory, and something for DC United to work with and hopefully provide a great end to the season.
Facts
Ola Kamara scored his second and third goals for the Black-and-Red, and his first brace since October 28, 2018, against Houston.
Bill Hamid recorded four saves and a clean sheet in the match, tying his career-high in single-season shutouts with 10.
Paul Arriola scored in the 23rd minute of the match, his sixth goal for the club in 2019.
Russell Canouse made his first start for United since July 27, 2019, against Chicago.
Frédéric Brillant recorded his second assist in the 32th minute of the match.
D.C. United are now 7-5-7 against Montreal in club history.
The Black-and-Red are 3-4-3 on the road against the Impact all-time.
The Black-and-Red are 5-6-4 on the road in 2019.
Lineups
D.C. United lineup: Bill Hamid; Joseph Mora, Steven Birnbaum, Frédéric Brillant, Russell Canouse; Júnior Moreno, Felipe Martins; Lucas Rodríguez, Paul Arriola (Luciano Acosta 87′), Ulises Segura (Leonardo Jara 90′); Ola Kamara (Quincy Amarikwa 87′)
Unused Substitutes: Chris Seitz, Donovan Pines, Marquinhos Pedroso, Emmanuel Boateng
Montreal Impact Lineup: Evan Bush: Bacary Sagna, Rudy Camacho, Daniel Lovitz, Jukka Raitala; Saphir Taïder, Lassi Lappalainen (Shamit Shome 77′), Orji Okwonkwo (Ballou Tabla 72′), Samuel Piette, Bojan Krkic, Maximiliano Urruti
Unused Substitutes: Clément Diop, Ken Krolicki, Clément Bayiha, Jorge Corrales, Zachary Brault-Guillard
Man of the Match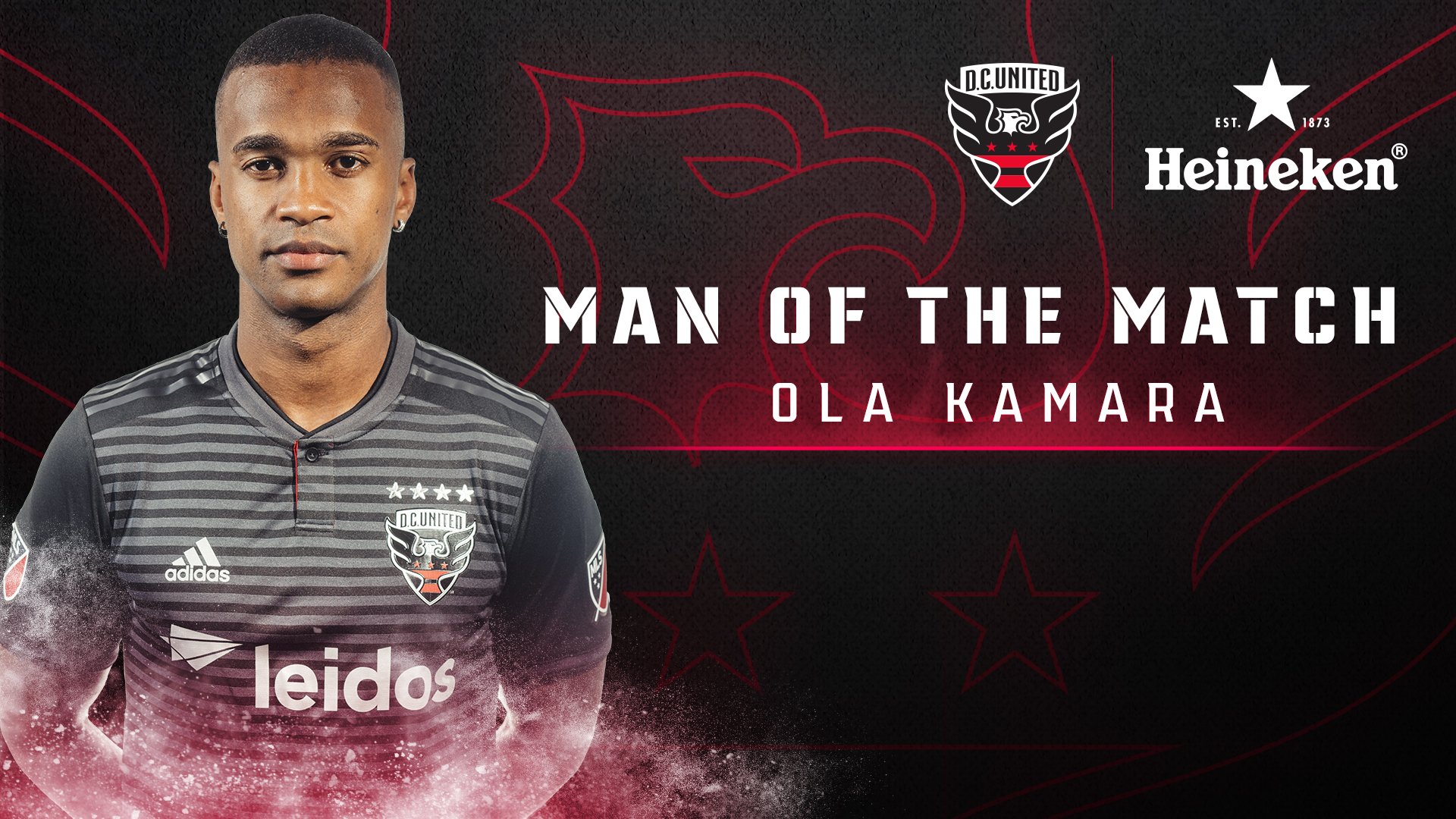 Totally agree, but it wouldn't be a miss if this was given to Arriola either. Kamara played well and deserved his 2 goals.
Up Next
After the international break, we are up against Portland Timbers, on the road again on the 15th/16th September, kick off here in the UK is 12:38am, live on FreeSports.